– KISSAKI –
2020/08/07
When:
2020/08/26 – 2020/09/07
all-day
2020-08-26T00:00:00+09:00
2020-09-08T00:00:00+09:00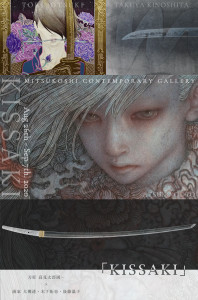 Date : from aug. 26th until sep. 7th of 2020 | 10 am – 7 pm
closed at 5:00 p.m. on the last day
Location : Nihombashi Mitsukoshi Main Store Main Building 6F contemporary Gallery
1-4-1, Nihonbashi Muromachi, chuo-ku, Tokyo 〒103-8001
Swordsmith : Kuniichi Taro Takami
Painter : Toru Otsuki, Takuya Kinoshita, Atsuko GOTO
———————————-
The exhibition searches attractive "as" material now while being based on traditional material, technique and is an exhibition to tie "to with a modern sense in" and "old days in" now consisting of expressed works.
 
Kuniichi Taro Takami people of the swordsmith is the first pupil of Kunihei Kawachi and is a without audition swordsmith winning (blue ribbon) of the modern sword job exhibition Prince Takamatsu memorial award in 2018. The Japanese sword forms a figure (former form running out of curve shop) after the process that a craftsman trains from material called the ball steel many times and expresses beauty and a pattern on the sword blade of ground iron. 
This three painter Toru Otsuki, Atsuko Goto, Takuya Kinoshita completes an oil painting technique materials laboratory of same Tokyo art University Graduate School and are doing original expression while using different material and technique each.