Atsuko Goto 3 Prints RELEASE
2022/06/10
When:
2022-06-15T00:00:00+09:00
2022-06-16T00:00:00+09:00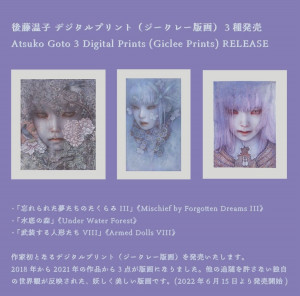 Atsuko Goto 3 Prints RELEASE
《Under Water Forest》
《Mischief by Forgotten Dreams III》
《Armed Dolls VIII》
Date: 15 June 2022
The artist's first digital prints (giclee print) will be shown in this solo exhibition, and will be available for sale from Wednesday 15 June.
For more information on the work and how to order, visit 【Gallery KOGURE website】 or contact 【MARUZEN Marunouchi main store 4F gallery B】 by phone: +81(0)3-5288-8881.
*Digital prints (giclee print) will be on sale at Gallery Kogure and Maruzen Marunouchi main store 4F Gallery B on the same day.